广州话/香港话/白话siri出炉了
送交者: 2012年06月11日23:15:43 于 [世界军事论坛] 发送悄悄话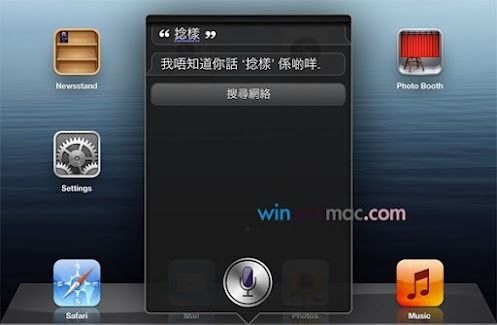 http://www.google.com/gwt/x?gl=US&hl=en-US&u=http://micgadget.com/27174/siri-finally-able-to-speak-and-understand-chinese/&q=Siri+cantonese&ei=0dTWT6f7HoyK6QHT8bmgAw&sa=X&ct=res&resnum=3&ved=0CCMQFjAC
This page adapted for your browser comes from micgadget.com and is not endorsed by Google.
Page shown from here. 
Go to page 1
Zoom out
By Chris Chang, posted Jun 11, 2012 at 7:54 PM, 194 views, 


Siri

 Finally Able to Speak and Understand Chinese (video)




At its WWDC keynote Monday, Apple unveiled new MacBooks and software updates that confirmed many pre-event reports and rumors. For the software part, iOS 6 is unveiled in beta form with 200 new features, and will be released to the public in the fall. Among the 200 new features, the one thing that may excite Chinese users most is the upgraded 

Siri

, sporting the ability to speak and understand Chinese. Check out the demo after the break.

Finally, the Chinese iPhone users can use 

Siri

 on their iPhone 4S. The upgraded 

Siri

 now includes support for three dialects of Chinese — the Mainland Chinese Mandarin (Pŭtōnghuà), 

the Taiwanese Mandarin, and 

Cantonese

.




In China, 1.2 billion people speak one or more varieties of Chinese. Each of the major varieties of Chinese

has numerous dialects. For example, the Mainland Chinese Mandarin (Pŭtōnghuà) can be divided into northern, southern and south-western dialects, which are more or less mutually intelligible. What's more, all varieties of Chinese are tonal. This means that each syllable can have a number of different meanings depending on the intonation with which it is pronounced. For example Mandarin has 4 tones, 

Cantonese

 has between 6 and 9 (it depends who you ask) and Taiwanese has 7 tones.

You may not know, 

Cantonese

 is spoken by about 66 million people in Guangdong and Guangxi provinces and Hainan island in China, and also in Hong Kong and Macau. As for the Mainland Chinese Mandarin (Pŭtōnghuà), it is spoken by possibly more people than any other language: over 1 billion. It is the main language of government, the media and education in mainland China.

So, it may sound good to hear that 

Siri

 is able to speak and understand Chinese, but we don't think 

Siri

 is smart enough to understand the numerous dialects of Chinese. Why? Just look at the whole list of dialects of Chinese 

here.



Source:

 Apple



RELATED STORIES



RIM Demands Blackberry Playbook To Produce In Taiwan iPad 2 Selling At Crazy Prices in Hong Kong's Gray Market (update: video!) Wikileaks Releases 3,000 More China Diplomatic Messages Hong Kong Apple Store: Everything You Need to Know (with video!)


例子
- 蜀人 06/12/12 (393)

看我的例子
/无内容
- 蜀人 06/12/12 (324)