跌破11月和12月的两个支撑点了。
送交者: 2013年12月12日00:58:03 于 [世界股票论坛] 发送悄悄话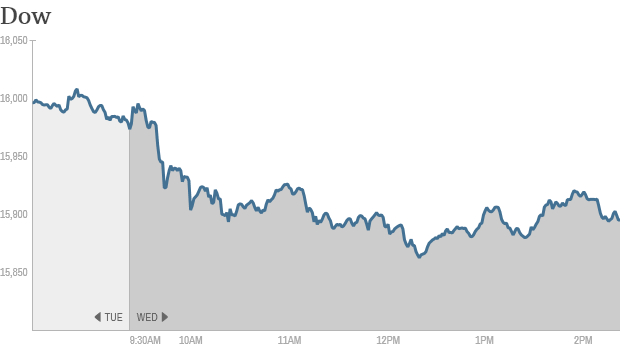 Click for more market data.
NEW YORK (CNNMoney)
Stocks tumbled Wednesday as investors bet that a new U.S. budget deal raises the chances that the Federal Reserve might start to scale back its support for the economy soon.
The Dow Jones industrial average fell more than 75 points in afternoon trading. The S&P 500 and the Nasdaq were both down about 1%.
Congressional negotiators reached a bipartisan budget compromise late Tuesday that would prevent another government shutdown, if approved by the House and Senate. The deal would set spending levels, reduce the deficit and relieve some of the arbitrary, forced spending cuts.
Some analysts say the deal could make the Fed more likely to announce it will begin trimming its $85-billion-a-month bond purchases as early as next week. Fed chairman Ben Bernanke has said repeatedly that uncertainty about fiscal policy is a threat to the economy.
"This budget agreement probably increases the odds of a taper sooner rather than later," said Ryan Larson, head of equity trading at RBC Global Asset Management.
Still, many investors say the Fed will remain on hold at next week's policy meeting, despite a recent run of strong employment data. The general consensus is that Fed vice chair Janet Yellen, who has been nominated to succeed Bernanke and is awaiting final approval from the Senate, will begin tapering early next year