Meet China's Most-Hated Reality Star
送交者: 2011年09月28日17:37:58 于 [世界时事论坛] 发送悄悄话
Meet China's Most-Hated Reality Star
BY SARA HAMMEL
Tuesday September 27, 2011 05:55 PM EDT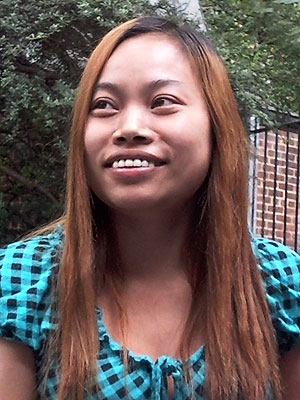 Bachelor Pad
 villain Vienna Girardi. 
But in New York, where she's started a new life, Feng Luoyu, 26, can go about her life as a manicurist without raising a single eyebrow. 
Not so back home. Luoyu rose to infamy in her native China in 2009 after handing out fliers in Shanghai in an attempt to snare a husband. But her list of demands was extreme – and offended many in her country, where women are a minority and competition for wives is fierce. 
"He must be a post-graduate of economics from Tsinghua or Beijing University, with a height of 5 feet 9 to 6 feet," she wrote, according to 
The New York Post
. "He must have never been a father, and any ex-girlfriends must not have had abortions. He has to be a native of eastern coastal China. He should not be an employee of state companies, but it's OK if he works for PetroChina, Sinopec or top banks." 
She didn't stop with the fliers. She later appeared on billboards and then snagged a reality show with two actors posing as her boyfriend. And she has 1.4 million followers on Weibo, China's version of Twitter. 
"I was hated in China and don't wanted to be hated by people here," Feng told 
The Post
 in Chinese. 
Back home, people heckled her on the streets of Shanghai with shouts of, "Feng Jie!" or "Big Sister Feng," as she's called there, as well as, "300 years!" in reference to her assertion that in intelligence, "no one can compare to me in 300 years before and after." 
She's also been mocked for blurting odd statements such as, "Einstein is for sure not smarter than me. He invented light, right?" 
But now, with her new life in America, she can live anonymously – but refuses to lower her high standards. 
She says she's after a "real American" man with an Ivy League education. 
"Men ask me out all the time," she says. "But none of them are suitable."